April History Pub
April 10 @ 7:00 pm

-

8:30 pm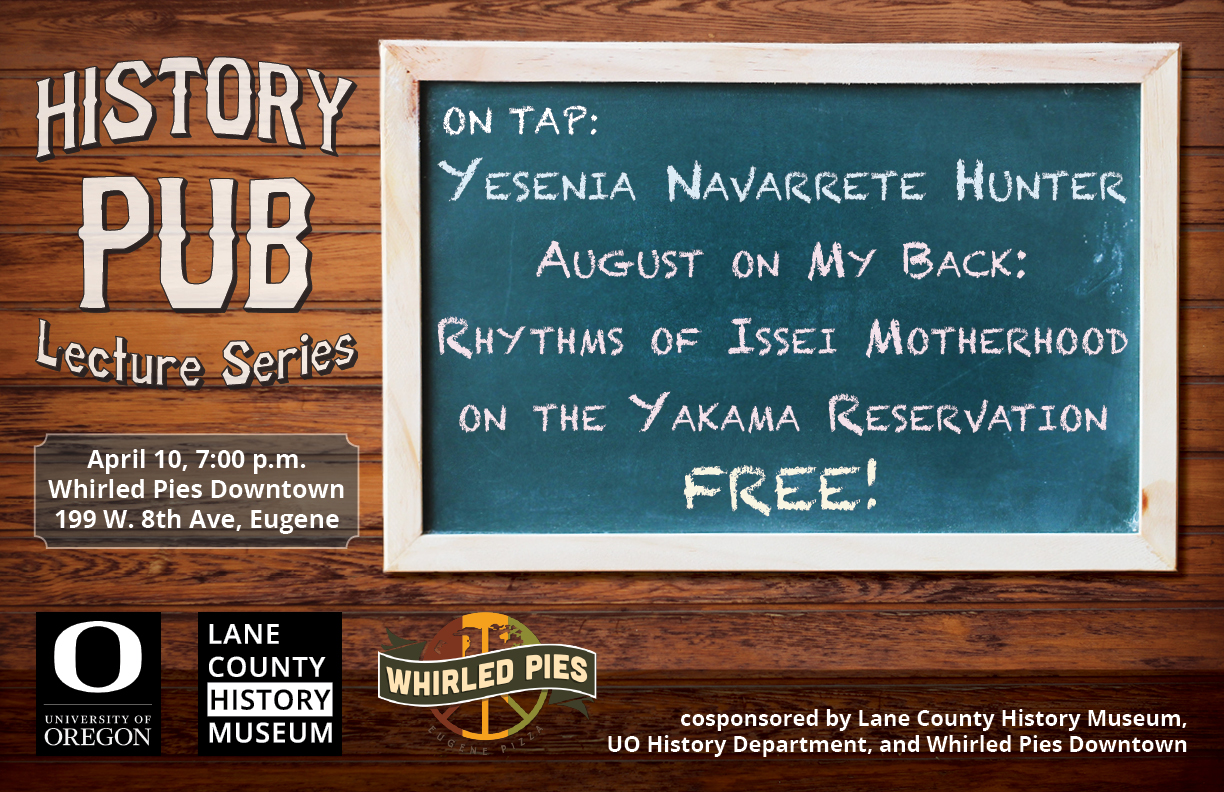 We are proud to continue our History Pub Series.
These casual lectures are a great way to learn and connect with like-minded folks.
Speaker: Yesenia Navarrete Hunter
August on My Back: Rhythms of Issei Motherhood on the Yakama Reservation
Dr. Yesenia Navarrete Hunter presents her current work on the Japanese mothers who settled and established vibrant communities in the Yakima Valley and on the Yakama Reservation. By looking at family stories, photographs, oral histories, and poetry, Dr. Hunter brings together the rich textures of everyday life and choices women made to bring about their desires for their children. This talk will feature three women, their material and cultural practices, and their
relationships with Indigenous peoples that allowed them to make place on the reservation.
Location: Whirled Pies Downtown
Monday, April 10, 7:00 PM – 8:30 PM
FREE!
About the Speaker:
Yesenia Navarrete Hunter is an Assistant Professor of History at Heritage University in Washington State, and a Postdoctoral Fellow at the University of Oregon, Eugene as part of the Just Futures Initiative in the Department of Indigenous, Race, and Ethnic Studies program. Dr. Hunter was born in Mexico and came to the U.S. as a child. She is the daughter of Guadalupe Marquez and Alberto Marquez, now of Wapato, Washington, where she grew up as a migrant farm worker. Her current work, called "Entangled Histories of Land and Labor," centers on the braided histories of immigrants and Native Americans in the Pacific Northwest. By looking at movement, migration, and material practices, Dr. Hunter looks at how groups made places of belonging and crafted opportunities for new relationships. Her work is guided by the question: How do people make place and create rhythms of belonging in fragile spaces? The aesthetics of her work are guided by elements of place, memory, embodied practices, and relationality.
The History Pub Lecture Series is a collaborative endeavor between the U of O History Department and the Lane County History Museum.