Online Educational Resources
Western Migration Presentation Series
Grades: 3rd/4th/5th Topics: Oregon Trail History (Vocabulary/Writing/Math)
Part 1: Why Take the Oregon Trail?
Part 2: Pack Your Wagon!
Part 3: Families on the Oregon Trail
Print-at-home Coloring Book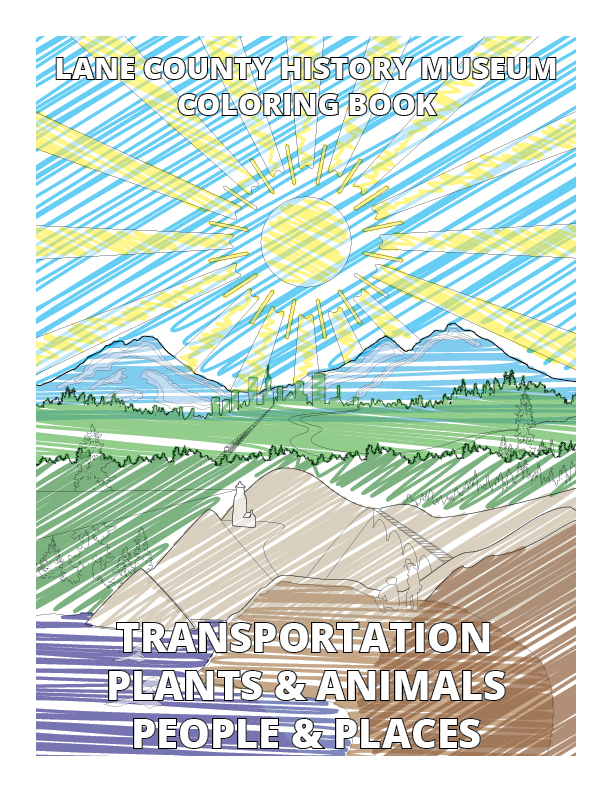 LCHM Coloring Book
This print-at-home coloring book features three sections: Transportation, Plants & Animals, and People & Places. Inspired by LCHM photo collections, we hope that you can enjoy putting your own color to these images.
School and Self-guided Tours
Self-guided tours are recommended for home school students, mixed ages, high school students, college students, and senior groups. Assistance League of Eugene is unable to accommodate such a wide range of groups at this time.  A Scavenger Hunt activity worksheet can be provided, which is best suited for elementary to middle school students.
Guided School Tours – The focus of the Assistance League®'s Eugene Oregon Heritage Program is on pioneer life on the Oregon Trail and settlement at journey's end. Children will explore a day in the life of a pioneer child including "chores" utilizing real period artifacts such as a butter churn, wool carders, slates and slate pencils. Newly added content also includes Native American history and perspectives, especially focused on Kalapuya tribes that inhabited the Willamette Valley prior to and during the settlement period of the mid 1800's. Tour content is primarily designed for 3rd and 4th grade students. 
Click here to submit your class online
Traveling Trunks
Traveling Trunks contain authentic and replicated items, as well as maps, illustrations, and photos which teachers and students are encouraged to handle and use as educational tools. An accompanying preview guide, lesson plan examples, and bibliography are available for each trunk. Traveling trunks may be checked out for one week at a time.
Lane County History Museum Trunks:
1. Westward Migration (Oregon Trail and Early Settlement)
Click here to request the Westward Migration Trunk
Other Lane County History Museum Materials:
1. Westward Migration (Oregon Trail and Early Settlement)
2. The Civil War
3. Imperialism (Late 19th/early 20th century, U.S. expansion)
Contact Lane Educational Service District
Shelton-McMurphey-Johnson House Trunk:
19th and 20th century Eugene history (McMurphey and Shelton families)