Here is a small list of original exhibits that have recently been on view at the museum.
The Culture of Kitsch
Exhibit Run: October 2019 – January 2022
[THIS EXHIBIT IS NO LONGER ON VIEW]
kitsch /kiCH/
Noun
Art, objects, or design considered to be in poor taste because of excessive garishness or sentimentality, but sometimes appreciated in an ironic or knowing way.
Adjective
Considered to be in poor taste but appreciated in an ironic or knowing way.
---
Projected Lights, Illuminated Images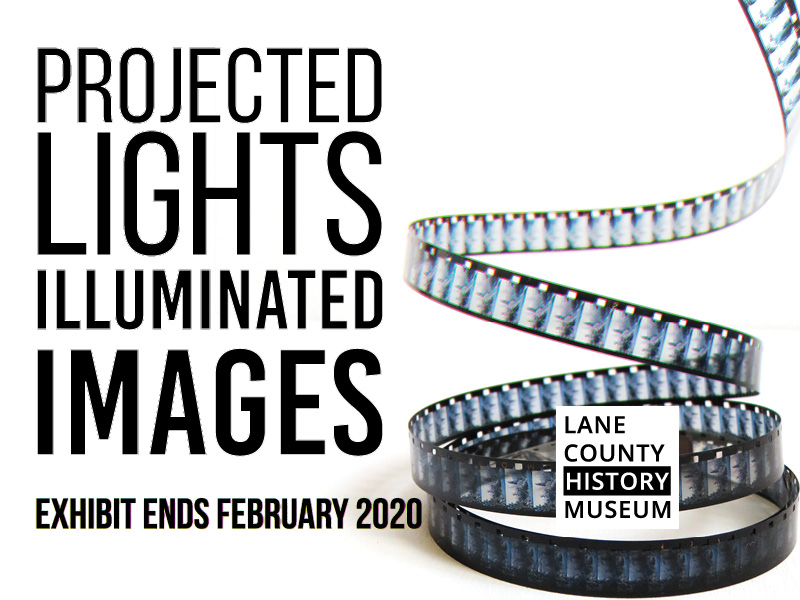 Exhibit Run: January 2019 – January 2022
[THIS EXHIBIT IS NO LONGER ON VIEW]
Trace the history of photographic technology and the history of film in Lane County.
---
Fifty Years of the Oregon Country Fair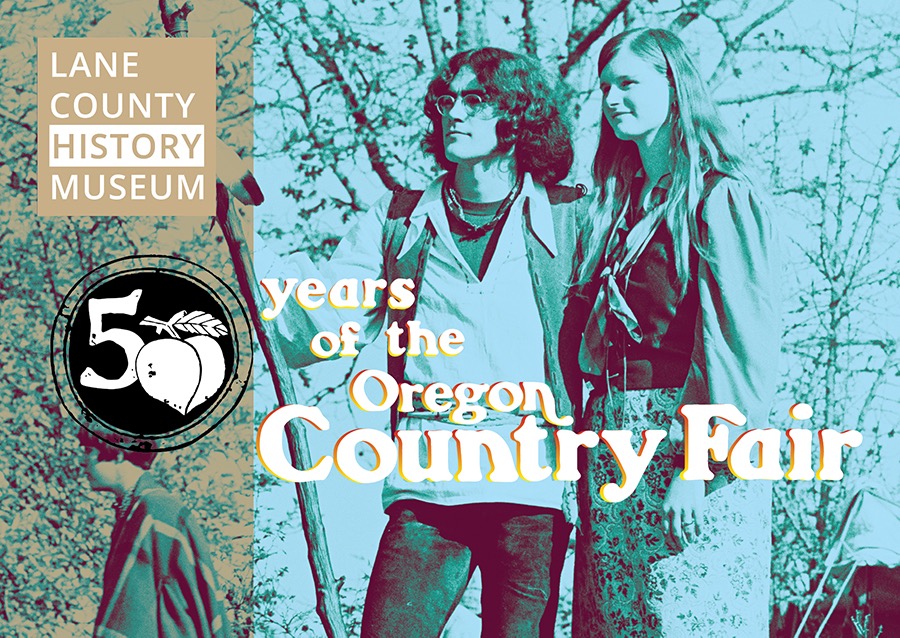 Exhibit Run: June 2019 – June 2020
[THIS EXHIBIT IS NO LONGER ON VIEW]
Fifty Years of the Oregon Country Fair celebrates a half century of collaboration, color, and counterculture spirit. Learn about its ties to 1960s political movements and counterculture causes like environmental and anti-commercial enterprises. With a wealth of photographs and archival material from the Oregon Country Fair Archives and artwork from the OCF family, this bright exploration of our recent past is sure to be a trip.
---
Remembering the Great War
Exhibit Run: November 2018 – February 2020 [THIS EXHIBIT IS NO LONGER ON VIEW]
November 11, 2018 marks 100 years since the end of World War I. This exhibit uses personal photographs and first-hand accounts from Lane County veterans to present a new perspective on this momentous international event. Learn about the ambulance unit made up of young men from Eugene and see battlefield photography by Sergeant Merle S. Moore on public display for the first time. Opened November 13, 2018.
---
Would You Believe It?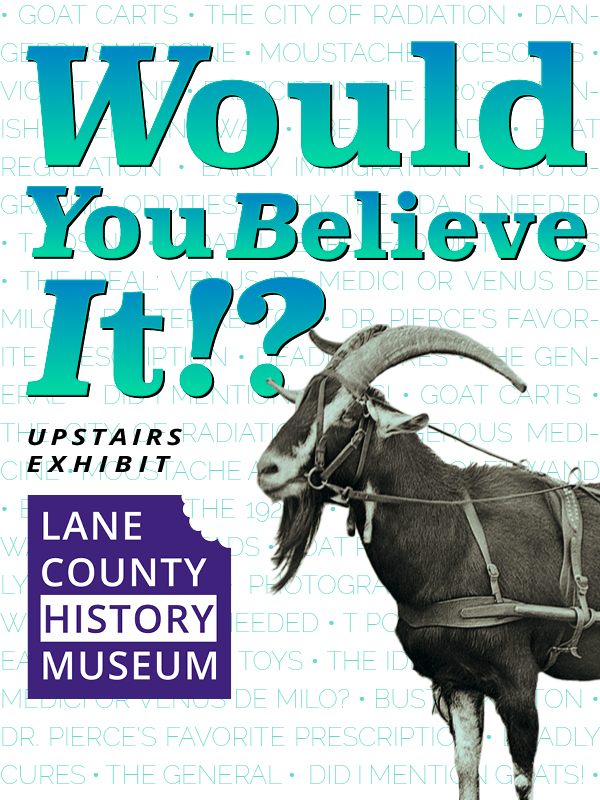 Exhibit Run: July 2018 – September 2019 [THIS EXHIBIT IS NO LONGER ON VIEW]
You don't want to miss this exhibit that highlights some of the more curious and surprising stories from Lane County's past. Learn about exciting medical technology! Marvel at the men who supported Eugene becoming the "City of Radiation!" Trace Oregon's history with immigration! See a local connection to Oregon's role in the Spanish-American War! Would You Believe It features photographs and artifacts from the permanent collection, most never shown before!
---
Toys! Historic Playthings from Lane County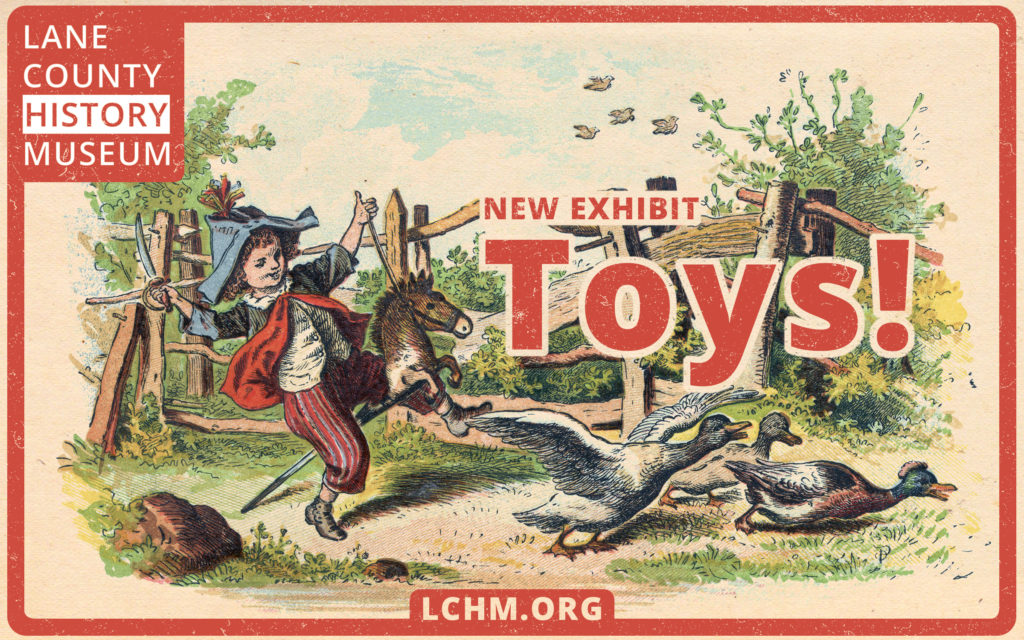 Exhibit Run: December 2017-December 2018 [THIS EXHIBIT IS NO LONGER ON VIEW]
Toys! Historic Playthings from Lane County' included artifacts and photographs from 1850 to 1950, giving a reflection of Oregon life through the eyes of kids at play.
---
Exhibit Curator Faith Kreskey describes some of the historic toys in the exhibit.
And Faith speaks here with KLCC's Eric Alan about vintage toys and the evolving nature of play itself.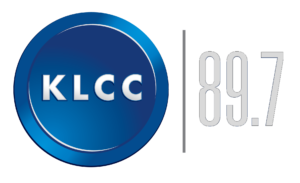 ---
Their Hearts Are In This Land: Native Resilience in Western Oregon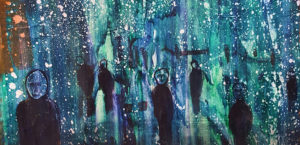 Exhibit Run: June 2017-June 2018 [THIS EXHIBIT IS NO LONGER ON VIEW]
Their Hearts are in This Land, explored the dynamic and diverse Native communities of this place we call home and highlights living Native cultures rather than stories of the past. This exhibit is a collaboration between the Museum Studies students at the University of Oregon, local Native people and the Lane County History Museum and will run for one year.
While some of the people and cultures represented in this exhibit are indeed descendants of ancient ancestors indigenous to this region, others descend from families transplanted here as a result of a U.S. policy, aimed at terminating its constitutional relationships with tribes. Many others came to Oregon by force to the boarding school at Chemawa through the early 1900s or by choice in recent decades. Others came and continue to come, to attend the University of Oregon, which celebrates their cultures and actively recruits from Native communities. There are thousands of Native people in western Oregon and there are as many stories as there are people.
Our primary goal, through consultation with local Native people, is to connect the public to those stories and hopefully generate the dialogue we see missing in the settler narrative of the Lane County Historical Museum. Our goal is not to tell those stories—as they are not ours to tell—but to invite you to learn from this representation of tribal lifeways, cultures, and traditions and leave with a desire to learn more. We offer only a glimpse into the complex and deep history of Native people in Western Oregon.
Our secondary goal is to actively disrupt limiting, damaging, and long-held misconceptions about Native people. Many visitors to history museums arrive with commonly held stereotypes and misinformation. Unfortunately, history museums often perpetuate these and therefore affirm false information. We aim to interrupt those misconceptions and at the same time we introduce more meaningful notions of Native cultures for you to consider. We hope you will unlearn some things, learn a few more, and leave with a new appreciation for the resistance, resilience, and revitalization of Native cultures and lifeways. We also hope you develop a new appreciation for the great efforts of these people, whose hearts are in this land.
---
Lost Towns: Revisiting Logging Communities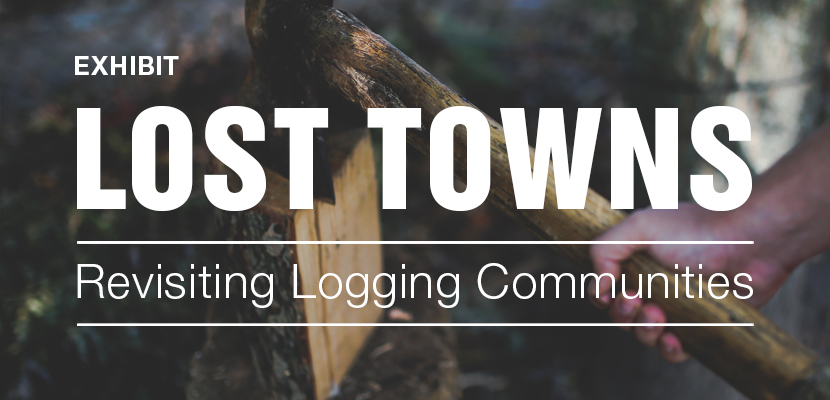 Exhibit Run: October 2016 – September 2017 [THIS EXHIBIT IS NO LONGER ON VIEW]
The logger has become a controversial figure in Lane County. The impact of past environmental practices has been criticized, while emulating stereotypical images of lumberjacks has become a fashion trend. This way of conceptualizing the past ignores the lives of the people who lived in communities that sprang up around the logging industry. Lost Towns: Revisiting Logging Communities will use historic photographs and oral history accounts to recreate for museum visitors what life was like for those who made a living in the forests in the first half of the 20th century, focusing on the communities of Wendling and Cushman. Exhibit will run through September 2017.
---
Exhibit Run: July 2016-October 2016 [THIS EXHIBIT IS NO LONGER ON VIEW]
The Lane County Historical Museum is proud to present an exhibit created by the Oregon Black Pioneers, our state's premier resource for African American cultural heritage information. The coming of railroads to Oregon in the late 1800's provided employment for African American men after the Civil War. Jobs opened up for them first in building the tracks, then aboard the train. Rails Through Eugene tells the stories of these people using photos, artifacts and scholarly research relating to train travel on the Oregon Electric Railway, the first electric interurban rail line in Oregon.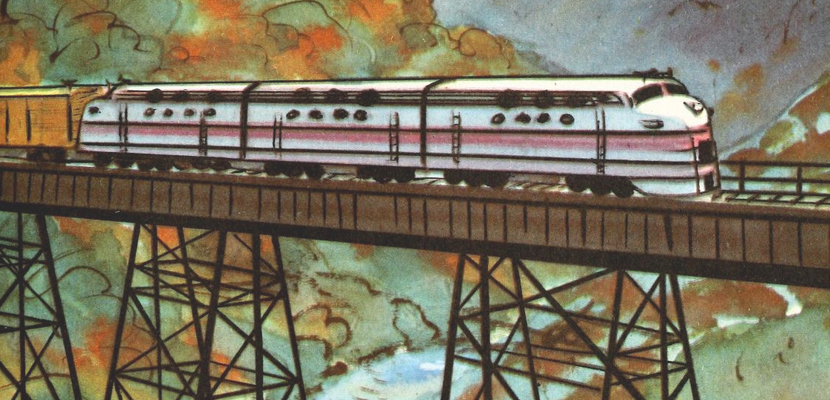 ---

Exhibit Run: April 2016-July 2016 [THIS EXHIBIT IS NO LONGER ON VIEW]
Little Women is a classic of children's literature that provides a glimpse into the home lives of young women during a time of great tumult and change in American history. The March sisters are among the most beloved literary characters of all time, inspired by Louisa May Alcott's unusual upbringing among transcendentalist philosophers in New England. This exhibit will discuss the life and work of Louisa May Alcott, including the inspiration she found in her own life experiences. Artifacts will include mid-19th century clothing, handicrafts, antique dolls, toys, and children's books from the LCHM collection.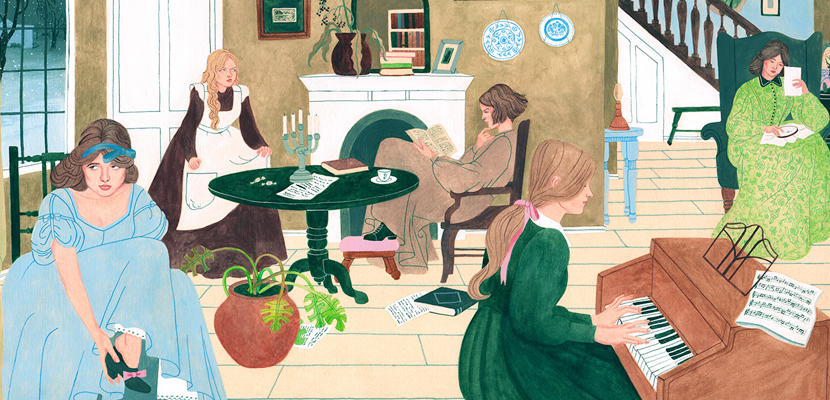 ---

Exhibit Run: November 2015-October 2016 [THIS EXHIBIT IS NO LONGER ON VIEW]
What do mercury, electricity and high proof alcohol have in common? These are just a few of the medical treatments on view in the LCHM's current exhibit. Spanning the period between 1840 and 1940, No Harm Intended provides an overview of the issues important to medical history during this transformative period. Supported by a fascinating display of hundreds of objects and wonderful photographs from the archival collection, it covers topics ranging from medical education, nursing, dentistry, public health, pharmaceutical compounding, marketing, and laboratory testing.
Learn about the lives of early pioneers, see how scientific testing was used in the fight against epidemic disease, and see many examples of quackery that seemed like a good idea at the time. Hundreds of bottles that once lined the shelves of local pharmacies appear alongside a foot powered dental drill from the late 19th century. Take a look at what examining tables were like in the 1890s and how students learned about anatomy with a dapper visual aide. Our ideas about healthcare are constantly changing, and this exhibit shows just how far we have come.